13 April, 2021
Batman: Arkham villains we love to hate
Because sometimes, it's personal! Here are some of the most infuriating and generally loathsome enemies in the Batman: Arkham series.
The Penguin
Our guide to Gotham's Most Wanted (or should that be "Gotham's Least Wanted?") kicks off with Oswald Chesterfield Cobblepot, a.k.a. The Penguin. What's not to loathe about this sleazy, cigar-chomping scumbag? Also, that "beer bottle monocle" is just horrible to look at, even if the guy who put it there ended up looking a whole lot worse!
The Penguin starts causing havoc for our hero in
Batman: Arkham City
after taking the museum, a few hostages and some pretty intimidating lackies, including the fearsome Solomon Grundy. Don't you just hate it when villains make other people do their dirty work? The Penguin returns in
Batman: Arkham Knight
, where he forms an alliance with the sadistic crime lord Black Mask and runs a lucrative side hustle as an arms dealer. He'll even kidnap Nightwing during the "Gunrunner" side mission as you attempt to sabotage his stashes. Not cool, Penguin!
Zsasz
Let's tally up all the things that make Victor Zsasz a truly despicable villain. He's a sociopathic serial killer who feels no remorse for his actions. He takes pride in his awful deeds, marking each kill with a scar and wearing it like a sickening badge of honour. He's also impatient, and will happily execute a hostage or two out of sheer boredom.
After threatening to kill Dr Young in Batman: Arkham Asylum, Zsasz takes great pleasure in taunting us throughout the
Batman: Arkham City
side quest "Cold Call Killer". Having rigged the phone system and captured some innocent "piggies" to murder, Zsasz has Batman soaring through the city at high speed, frantically trying to track down the next ringing pay phone before Zsasz hurts a hostage. There are few things more stressful and infuriating than being kept hanging on the line by a deranged killer. And all those phone calls? That's just plain needy!
Two-Face
There are two sides to every villain, and in this case, they're both awful! And the worst part is, it didn't have to be this way. Harvey Dent could have been a noble lawyer and an ally to Batman, but instead he decides to leave everything to the hands of fate, usually in the form of a coin toss. Speaking of coins, he's also pretty quick to seize money and power at any given opportunity.
Left as Arkham City's kingpin after Joker's death and Penguin's capture, Two-Face becomes the main antagonist in Catwoman's missions after stealing her loot (and in true Harvey Dent fashion, splitting it in half). However, he ends up with a few cat scratches for his troubles! Two-Face also appears in Batman: Arkham Knight's "Two-Faced Bandit" side mission and "A Flip of a Coin" DLC featuring Robin. Both incidents involve bank robberies and money smuggling, because apparently one coin just isn't enough. So much for Gotham's White Knight!
The Riddler
"Riddle me this" - who must be the most annoying adversary in the entire Arkham series? Yes, you all knew this one was coming! From
the very first game
, the Riddler has been causing Arkham players to tear their hair out with rage as they struggle to collect those damn green question marks. And yet, we just can't help ourselves - they always look so tantalisingly within our reach, don't they?
But worse than just taunting us with trophies (or "Enigma Datapacks" in
Batman: Arkham Origins
), the Riddler also takes hostages in order to play games with Batman… and we quickly realise that he doesn't play fair. Then he has the audacity to accuse Batman of cheating when the Riddler was the one who rigged the game in the first place. But there's one thing that makes it all worth the hassle, and that's finally managing to grab enough Riddler Trophies to track down the smug supervillain and put an end to his shenanigans once and for all. Well, until the next game that is!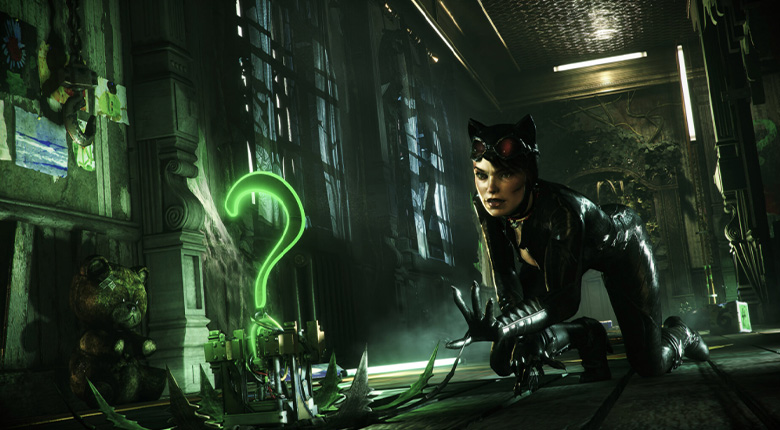 Those were the Batman: Arkham villains we just love to hate. Next time they're sent to Arkham, let's hope someone throws away the key!