27 October, 2020
The spookiest Batman:Arkham Series origin stories
It takes a lot to scare the Dark Knight, but these villains' stories are sure to haunt your nightmares!
It takes a lot to scare the Dark Knight, but these villains' stories are sure to haunt your nightmares!
Scarecrow
What could be scarier than the man who weaponised fear itself? Scarecrow's story has some strong horror roots, with his surname and physique inspired by Ichabod Crane of "The Legend of Sleepy Hollow", at least in
Batman/Scarecrow: Year One
. As well as being the main villain in the film
Batman Begins
, Scarecrow has been terrorising gamers throughout the
Batman: Arkham
series (including some memorable boss battles) and has slashed his way into our subconscious in
Injustice 2
.
Jonathan Crane's obsession with fear and phobias began in school, after he was relentlessly bullied for his awkward appearance. He got revenge at their high school prom by showing up in a terrifying scarecrow costume and wielding a gun. Crane went on to study and eventually teach psychology at Gotham University, where he perfected his notorious "fear toxin". Gotham certainly suffered a few sleepless nights after that invention!
This backstory from
Batman/Scarecrow: Year One
also included an abusive grandmother who locked Jonathan in a dilapidated church full of birds, and his New 52 backstory involves an incident where he was used as a test subject for one of his father's experiments. Young Jonathan was left severely traumatised after his father suffered a fatal heart attack, leaving him trapped alone in a small, dark room for several days. That'd be enough to scare anyone halfway to death.
Hush
Hush might be one of the most disturbing cases in Gotham's history. Created by Jeph Loeb and Jim Lee, Hush (otherwise known as Thomas or "Tommy" Elliot) is a master strategist, surgeon and sociopath who takes his name from the nursery rhyme "Hush Little Baby". He appears in the "Identity Theft" sidequest in
Batman: Arkham City
and returns to impersonate Bruce Wayne in
Batman: Arkham Knight
.
Tommy Elliot was a childhood friend of Bruce, and came from a wealthy and privileged family. However, Tommy's home life was far from perfect, and his mentality became warped into something truly chilling. Knowing he stood to inherit a fortune when his parents died, Tommy attempted to engineer the event himself by cutting the brake line on their car. He despised Dr Thomas Wayne, who saved his mother's life after the "accident", and was even envious of Bruce after his own parents were murdered.
Tommy's grudge against his former friend never went away, even after travelling the world and becoming a successful surgeon. Upon learning that Bruce was Batman, Tommy created the criminal alter-ego "Hush", using surgical bandages to mask his face and even putting himself under the knife whenever he needed to craft a new identity. Definitely not one for the squeamish!
Mad Hatter
"Twinkle, twinkle, little bat." First introduced in
Batman #49
in 1948, Jervis Tetch is an eccentric neuroscientist with a talent for mind control and a poor grasp of reality. He has appeared in several games, including
Batman: Arkham Origins
and the "Wonderland" DLC mission in Batman: Arkham Knight.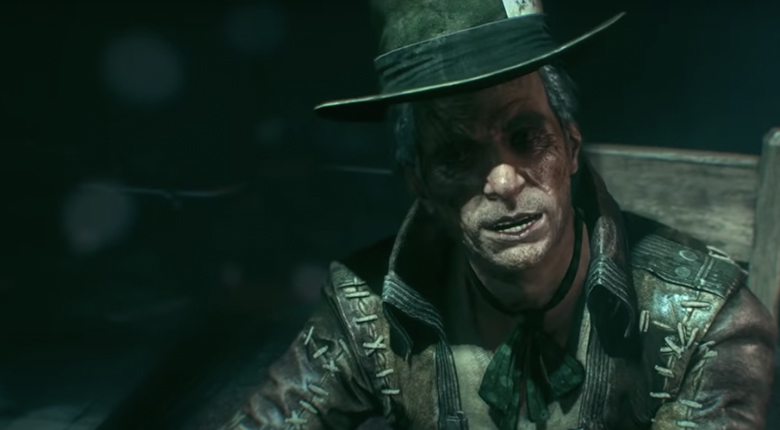 Deeply obsessed with the works of Lewis Carroll, Tetch has a history of kidnapping victims and making them reenact scenes from his favourite stories. This once involved a young Barbara Gordon, who was held hostage during a Hallowe'en special of
Batman: Legends of the Dark Knight
and forced to play "Alice". Mad Hatter's origin story in
Batman: The Animated Series
saw him becoming fixated on a co-worker, also named Alice. While she and Barbara were rescued, not all of Tetch's targets have been so lucky.
Dark twists on children's stories can be exceptionally creepy, and the Mad Hatter is a twist on a tale that was already pretty twisted (seriously,
Through the Looking Glass
contains moments of pure nightmare fuel). Deranged and delusional, Tetch is the last person we'd want to meet down a rabbit hole.
Man-Bat
Who's afraid of the big, bad bat? All of us, quite frankly, if we're talking about Dr Kirk Langstrom and his terrifying transformations. 
Like so many tales of woe and dread, Man-Bat's origins began with good intentions. In an effort to create a cure for deafness, Langstrom concocted a serum using genetic materials extracted from the glands of vampire bats. However, after testing the formula on himself, Langstrom found it had the unfortunate "side effect" of turning him into a monstrous, mutated creature of the night, complete with razor sharp claws and huge, leathery wings.
While the body horror of Man-Bat is scary enough, other versions of the story showed some gruesome effects on the rest of the Langstrom family. In several storylines, his wife Francine is forced into taking the serum, becoming the fearsome "She-Bat". In some versions, the couple's son Aaron inherits the beastly condition from his parents. Tragically, in
Batman: Arkham Knight
, Kirk loses control after turning into Man-Bat the first time, appearing to have killed Francine. Play the game on Hallowe'en, and you might just get a jumpscare from the Man-Bat himself - just be sure to watch your step while scaling Gotham's buildings.
Those were some of the spookiest stories from Gotham's most wanted. Try not to have nightmares!