2 June, 2020
Scorpion vs Sub-Zero: the story of an ancient feud
Nothing's more dangerous than a ninja with a grudge... except for two ninjas, each holding a grudge that's gone beyond the grave.
Scorpion's revenge
Having pledged their allegiances to rival clans, Scorpion and Sub-Zero were never going to see eye to eye. However, it was thanks to the interference of the sorcerer Quan Chi that the two warriors became mortal enemies.
In the original timeline, Hanzo Hasashi (codename "Scorpion") was tasked with a special mission after Quan Chi approached the Shirai Ryu clan. While on his quest to retrieve the Map of Elements, Scorpion found himself locked in a fight to the death with Bi-Han, a.k.a. "Sub-Zero" of the Lin Kuei. After a gruelling match, Scorpion was slain and his clan was later wiped out, with Sub-Zero supposedly leading the assault. In the current timeline, the attack on the Shirai Ryu came unprovoked and Hasashi, along with his wife Harumi and son Satoshi, were among the dead.

Using his powers of necromancy, Quan Chi was able to resurrect Scorpion's soul from the Netherrealm just in time to enlist in Shang Tsung's Mortal Kombat tournament. He informed Scorpion that Sub-Zero was the one who slaughtered his clan and kin, though Quan Chi himself was the one responsible. With the wrath of a man who'd literally been to hell and back, Scorpion had one thing on his mind… vengeance! After Shang Tsung's defeat, Scorpion seized his opportunity and Sub-Zero was killed.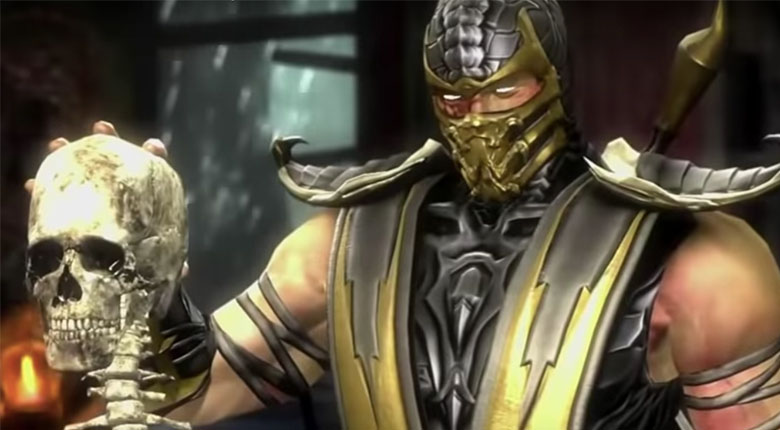 In the second timeline, Raiden made a bargain with Scorpion to spare Bi-Han in exchange for the resurrection of his clan. However, upon seeing a vision of Sub-Zero murdering his wife and child, Scorpion became consumed with rage, and was next seen grasping Bi-Han's scorched, severed skull. Needless to say, the deal was off.
The second Sub-Zero
At the next Mortal Kombat tournament, Scorpion was surprised to see Sub-Zero among the combatants. However, he soon realised this was not the same person he'd fought in the past. Kuai Liang (previously known as "Tundra") was Bi-Han's younger sibling, who had taken up his brother's blue mantle. While Scorpion had no quarrel with the younger Sub-Zero, Kuai Liang wanted revenge, served ice-cold. 


This wasn't the only surprise turn of events, as Bi-Han himself returned as the wraith known as Noob Saibot. A dark shadow of his former self, Noob Saibot would go on to form alliances with Quan Chi and Shao Kahn, along with just the worst individuals he could find throughout the realms. However, his true allegiance was to himself, and Noob Saibot's desire was to conquer Netherrealm. Clearly, the old Bi-Han was long gone.
 
Making enemies
While Scorpion and Sub-Zero's rivalry kept burning, it wasn't long before they made more enemies. 
By the end of the third tournament, the pair found a common foe in the form of emperor Shao Kahn, due to Scorpion's defection and Sub-Zero's staunch defence of Earthrealm. However, Kuai Liang was now facing problems of his own, having opposed the Lin Kuei's "Cyber Initiative" that would force his clan into becoming soulless cyborgs. This incurred the wrath of Sektor, a powerful Lin Kuei warrior who'd already undergone the cybernetic transformation.

Meanwhile, Scorpion would remain blinded by lies, as Quan Chi continued to exploit Scorpion's rage and power for his own evil ambitions. In the original timeline, this included the false claim that Kuai Liang murdered Hasashi's family. However, it was only a matter of time before the truth would be revealed.
 
Settling the score
Despite their differences, the two warriors were always more alike than they realised. Both had sworn revenge for their fallen family members, both aimed to reform their respective clans and both would eventually fight for the good of Earthrealm. But where would that leave their long-standing feud?

In the original timeline, Scorpion's animosity towards Sub-Zero was cast aside once he learned the truth about Quan Chi. His enraged pursuit of his new nemesis led him on a journey through multiple realms, including an encounter with the Elder Gods themselves. By Mortal Kombat: Armageddon Scorpion had turned against them too, after the Elder Gods promised to resurrect his clan and family, only to have them brought back as hellish revenants. Scorpion just can't catch a break, can he? Meanwhile, Sub-Zero's interests remained with the Lin Kuei, as he set out to discover their origins as well as the source of their mysterious powers.
 

In the current timeline, Mortal Kombat X would see Scorpion and Sub-Zero's rivalry put to rest, possibly even for good. Thanks to information stored within the memory banks of Sektor's severed head, Quan Chi's involvement in the massacre of the Shirai Ryu was finally brought to light. The two grandmasters appeared to put their pasts behind them, and have since been seen working cooperatively.

But with so many timelines and incarnations in the Mortal Kombat universe, nothing is certain, especially a truce between two rivals. Now, as the past and present collide in Mortal Kombat 11, this begs the question - what will eventually become of this ancient feud?
 
That's the story of Scorpion and Sub-Zero. Want to hear about some more MK grudge matches? Check out our blog - Mortal Kombat's greatest rivalries.