17 December, 2021
The Warner Bros. UK 2022 Movie Preview
In true tradition, it's time to look forward to what 2022 is going to bring to the big screen.
Over the next 12 months you can expect a whopping five DC films, a return to the Wizarding World, Baz Luhrmann's take on the story of Elvis, and trust us, so much more! So, without further ado, let's take you through the Warner Bros. UK 2022 Movie Preview… 
THE BATMAN
Release date:
In Cinemas March 4, 2022
Director:
Matt Reeves 
Cast:
Robert Pattinson, Zoë Kravitz, Paul Dano, Jeffrey Wright, John Turturro, Peter Sarsgaard, Barry Keoghan, Andy Serkis and Colin Farrell
About:
Two years of stalking the streets as the Batman (Pattinson), striking fear into the hearts of criminals, has led Bruce Wayne deep into the shadows of Gotham City.  With only a few trusted allies—Alfred Pennyworth (Serkis), Lt. James Gordon (Wright)—amongst the city's corrupt network of officials and high-profile figures, the lone vigilante has established himself as the sole embodiment of vengeance amongst his fellow citizens. When a killer targets Gotham's elite with a series of sadistic machinations, a trail of cryptic clues sends the World's Greatest Detective on an investigation into the underworld, where he encounters such characters as Selina Kyle aka Catwoman (Kravitz), Oswald Cobblepot aka the Penguin (Farrell), Carmine Falcone (Turturro), and Edward Nashton aka the Riddler (Dano).  As the evidence begins to lead closer to home and the scale of the perpetrator's plans becomes clear, Batman must forge new relationships, unmask the culprit, and bring justice to the abuse of power and corruption that has long plagued Gotham City.
Watch the trailers
.           
UNWELCOME
Release date:
In Cinemas March 18, 2022
Director:
Jon Wright
Cast:
  Hannah John-Kamen, Douglas Booth, Colm Meaney, Jamie-Lee O'Donnell, Chris Walley, Kristian Nairn, Niamh Cusack
About:
Hannah John-Kamen and Douglas Booth star as a couple who escape their urban nightmare to the tranquillity of rural Ireland only to discover malevolent, murderous goblins lurking in the gnarled, ancient wood at the foot of their new garden. Additional cast include Golden Globe nominee Colm Meaney, Jamie-Lee O'Donnell, Chris Walley and Kristian Nairn. Directed by Jon Wright, the film is based on an original screenplay by Mark Stay.
Watch the trailer
. 
FANTASTIC BEASTS: THE SECRETS OF DUMBLEDORE
Release date:
In Cinemas April 8, 2022
Director:
David Yates 
Cast:
Eddie Redmayne, Jude Law, Ezra Miller, Alison Sudol, Dan Fogler, Katherine Waterston, Jessica Williams, Mads Mikkelsen, Callum Turner
About:
Professor Albus Dumbledore (Law) knows the powerful Dark wizard Gellert Grindelwald (Mikkelson) is moving to seize control of the wizarding world.  Unable to stop him alone, he entrusts Magizoologist Newt Scamander (Redmayne) to lead an intrepid team of wizards, witches and one brave Muggle baker on a dangerous mission, where they encounter old and new beasts and clash with Grindelwald's growing legion of followers.  But with the stakes so high, how long can Dumbledore remain on the sidelines?
Watch the official Trailer
.
OPERATION MINCEMEAT
Release date:
In Cinemas April 22, 2022
Director:
John Madden 
Cast:
Colin Firth, Matthew Macfadyen, Kelly Macdonald, Penelope Wilton, Johnny Flynn, Jason Isaacs, Simon Russell Beale, Mark Gatiss 
About:
It's 1943. The Allies are determined to break Hitler's grip on occupied Europe, and plan an all-out assault on Sicily; but they face an impossible challenge - how to protect a massive invasion force from potential massacre. It falls to two remarkable intelligence officers, Ewen Montagu (Colin Firth) and Charles Cholmondeley (Matthew Macfadyen) to dream the most inspired and improbable disinformation strategy of the war - centred on the most unlikely of secret agents: a dead man. Operation Mincemeat is the extraordinary and true story of an idea that hoped to alter the course of the war - defying logic, risking countless thousands of lives, and testing the nerves of its creators to breaking point…
Watch the official trailer
.  
EMILY
Release date:
In cinemas 2022 
Director:
Frances O'Connor
Cast:
 Emma Mackey, Fionn Whitehead, Oliver Jackson-Cohen, Alexandra Dowling, Amelia Gething, Gemma Jones and Adrian Dunbar
About:
 "EMILY" tells the imagined life of one of the world's most famous authors, Emily Brontë. The film stars Emma Mackey ("Sex Education", "Death on the Nile") as Emily, a rebel and misfit, as she finds her voice and writes the literary classic Wuthering Heights. "EMILY" explores the relationships that inspired her – her raw, passionate sisterhood with Charlotte (Alexandra Dowling – "The Musketeers") and Anne (Amelia Gething – "The Spanish Princess"); her first aching, forbidden love for Weightman (Oliver Jackson-Cohen – "The Lost Daughter", "The Haunting of Bly Manor") and her care for her maverick brother (Fionn Whitehead – "The Duke", "Dunkirk") whom she idolises.
Frances O'Connor makes her directorial debut with "EMILY," from her own original screenplay. The film also stars Adrian Dunbar ("Line of Duty") and Gemma Jones ("Bridget Jones's Baby", "Gentleman Jack").
DC LEAGUE OF SUPER-PETS 
Release date:
In Cinemas May 20, 2022 
Director:
Jared Stern
Cast:
Dwayne Johnson, Keanu Reeves, Joh Krasinski, Kate McKinnon, Natasha Lyonne, Kevin Hart, Diego Luna, Jameela Jamil, Vanessa Bayer, Marc Maron
About:
Krypto the Super-Dog (Johnson) and Superman (Krasinski) are inseparable best friends, sharing the same superpowers and fighting crime in Metropolis side by side. When Superman and the rest of the Justice League are kidnapped, Krypto must convince a rag-tag shelter pack—Ace the hound (Hart), PB the potbellied pig (Bayer), Merton the turtle (Lyonne) and Chip the squirrel (Luna)—to master their own newfound powers and help him rescue the Super Heroes.
Watch the Official Trailer
.
ELVIS
Release date:
June 24, 2022
Director:
Baz Luhrmann
Cast:
Tom Hanks, Dacre Montgomery, Kodi Smit-McPhee, Luke Bracey, Austin Butler, Richard Roxburgh, David Wenham, Xavier Samuel, Olivia DeJonge, Kelvin Harrison Jr
About:
Baz Luhrmann's "Elvis" explores the life and music of Elvis Presley (Butler), seen through the prism of his complicated relationship with his enigmatic manager, Colonel Tom Parker (Hanks).  The story delves into the complex dynamic between Presley and Parker spanning over 20 years, from Presley's rise to fame to his unprecedented stardom, against the backdrop of the evolving cultural landscape and loss of innocence in America.  Central to that journey is one of the most significant and influential people in Elvis's life, Priscilla Presley (DeJonge).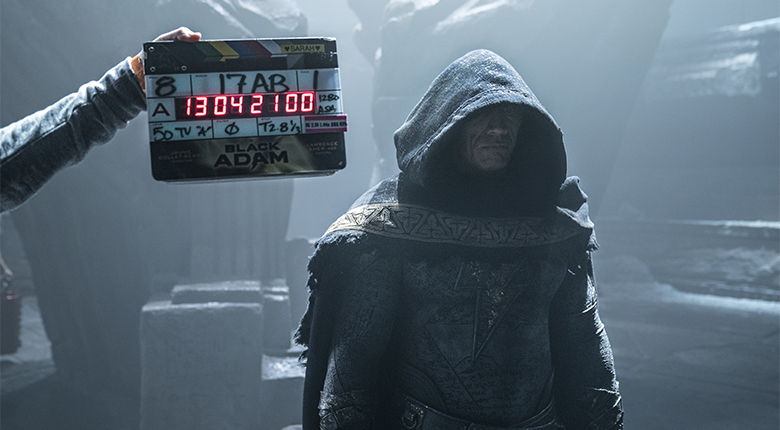 BLACK ADAM
Release date:
July 29, 2022
Director:
Jaume Collet-Serra
Cast:
Dwayne Johnson, Aldis Hodge, Noah Centineo, Sarah Shahi, Marwan Kenzari, Quintessa Swindell, and Pierce Brosnan
About:
Nearly 5,000 years after he was bestowed with the almighty powers of the Egyptian gods—and imprisoned just as quickly—Black Adam (Johnson) is freed from his earthly tomb, ready to unleash his unique form of justice on the modern world.
SALEM'S LOT 
Release date:
September 9, 2022
Director:
Gary Dauberman
Cast:
Alfre Woodard, Spencer Treat Clark, Bill Camp, William Sadler, Pilou Asbaek, Lewis Pullman
About:
Haunted by an incident from his childhood, author Ben Mears returns to his hometown of Jerusalem's Lot in search of inspiration for his next book, only to discover the town is being preyed upon by a bloodthirsty vampire and his loyal servant.
DON'T WORRY DARLING
Release date:
September 23, 2022
Director:
Olivia Wilde
Cast:
Florence Pugh, Harry Styles, Olivia Wilde, Gemma Chan, Chris Pine, Nick Kroll, Douglas Smith, Timothy Simons
About:
A 1950s housewife (Pugh) living with her husband (Styles) in a utopian experimental community begins to worry that his glamorous company may be hiding disturbing secrets.
THE FLASH
Release date:
November 4, 2022
Director:
Andy Muschietti
Cast:
Ezra Miller, Ron Livingston, Michael Keaton, Kiersey Clemons, Michael Shannon, Antje Traue, Sasha Calle, and Michael Keaton
About:
Ezra Miller stars as Barry Allen, AKA The Flash, who pushes the limits of his superpowers in the DC Super Hero's first-ever standalone feature film.
AQUAMAN AND THE LOST KINGDOM
Release date:
December 16, 2022
Director:
James Wan
Cast:
Jason Momoa, Nicole Kidman, Amber Heard, Patrick Wilson, Yahya Adbdul-Mateen II, Dolph Lundgren, Temuera Morrison, Indya Moore, Randall Park
About:
When an ancient power is unleashed, Aquaman must forge an uneasy alliance with an unlikely ally to protect Atlantis, and the world, from irreversible devastation.