4 June, 2021
Kitana and Mileena: a tale of two sisters
They may not be related by blood (at least in the conventional sense), but these two have certainly spilled plenty of it over the years! This is their deadly tale of sibling rivalry...
They may not be related by blood (at least in the conventional sense), but these two have certainly spilled plenty of it over the years! This is their deadly tale of sibling rivalry...

Finish her!
Kitana and Mileena were first introduced in 1993's Mortal Kombat II as the personal assassins of their father and emperor, Shao Kahn. Besides the colours of their clothing, the only visible differences were their weapons of choice, with Kitana wielding a pair of steel fans while Mileena opted for two sai. But while these "twins" looked the same on the surface, they couldn't have been more different beneath the masks. 

Princess Kitana was the true daughter of King Jarrod and the rightful ruler of Edenia, a realm conquered by Shao Kahn while Kitana was only a child. After he killed her father, Shao Kahn raised Kitana as his own and had her trained in the deadly arts. Mileena, on the other hand, was a genetic experiment created by the dark sorcerer Shang Tsung, who successfully fused the princess' essence with that of bloodthirsty Tarkatan warriors. This ensured that Shao Kahn would still have a fierce and loyal heir should Kitana ever learn the truth about her heritage and rebel against him (which, to be fair, is exactly what happened). Mileena's appearance was identical to her "sister", apart from the sharp Tarkatan teeth hidden by her mask. Thanks to these chilling chompers, Mileena's Fatalities would give a whole new meaning to the phrase "man-eater".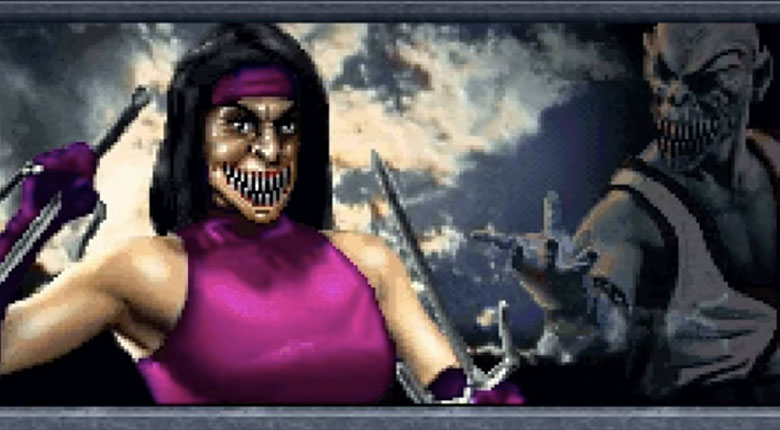 Kitana began betraying Shao Kahn's orders by secretly supporting the Earthrealm warriors, including her future love interest Liu Kang. Meanwhile, Mileena had been keeping a close eye on her sister and was determined to stop Kitana's dissension "at any cost". It was only a matter of time before the two became embroiled in a bitter face-off, during which Kitana defeated and killed Mileena. 
Family feud
Of course, this is Mortal Kombat we're talking about, and nobody stays dead for very long! In Ultimate Mortal Kombat 3, Mileena was resurrected in the Netherrealm by the fallen Elder God Shinnok, and immediately set out to avenge her own death. 

But Mileena wasn't the only resurrection in the family. After being accused of murder and treason by the High Courts of Outworld, Kitana then had to reckon with the return of Queen Sindel. Kitana made it her mission to find her mother and remind her of her true past, hoping they might liberate their homeworld together. Naturally, Shao Kahn and Mileena had other ideas! In the end, Outworld's forces were defeated, and Edenia was finally free.
Peace proved to be short-lived however, as Shinnok and Quan Chi led an invasion from Netherrealm in Mortal Kombat 4. And of course, who should Kitana run into but her darling sister, who was now a loyal supporter of Shinnok. Once again, Mileena was defeated by Kitana and promptly locked in the palace jail cells before she could cause any more trouble.

By now, Kitana was proving to be a worthy and respectable leader. Upon hearing of Shao Kahn's return, Kitana managed to broker peace between the Shokan and Centaur before marching her armies into battle against Outworld. Sadly, she lost her friend and ally Prince Goro, but soon received word that Shao Kahn was no more. However, his demise was the work of the newly-formed "Deadly Alliance", and Kitana was heartbroken to hear that Liu Kang was also among the slain. She retaliated (naturally), only to be murdered by Quan Chi and resurrected as a pawn of Onaga the Dragon King.
As for Mileena, the deceptive doppelganger was freed from prison by Baraka prior to Mortal Kombat: Deception and she swiftly joined forces with Onaga. With her do-gooder twin finally out of the picture, Mileena began posing as Kitana and used this cunning disguise to take control of her sister's armies. Lucky for her, nobody thought to look behind the mask!
Mileena used the forces of Edenia to conquer Shao Kahn's fortress "in the name of peace", which is certainly a creative use of the word! But it wasn't long before Shao Kahn returned, resulting in a brutal stand-off in the throne room. Knowing she'd been beaten, "Kitana" revealed her true identity before surrendering to Shao Kahn.
However, all was not lost for Kitana. With the help of Ermac, Liu Kang's spirit managed to release Kitana and the other enslaved warriors from Onaga's control. On her return to Edenia, Blaze warned Kitana of a coming danger, as if she hadn't had enough of that already. While Kitana despaired that the fighting would never end, Blaze assured her that the wars would soon be over. Well… he sure was right about that! Kitana and Mileena soon met their deaths in battle during Mortal Kombat: Armageddon, along with the many other warriors who were wiped out.
A rivalry reborn
In the new Mortal Kombat timeline, Kitana was raised as Shao Kahn's daughter before her loyalty was shaken and the truth about her past was revealed. However, Mileena's introduction was slightly different, as Kitana first encountered her evil twin freshly-formed in Shang Tsung's Flesh Pits. They fought, and it was revealed that Mileena was designed as a replacement for Shao Kahn's disloyal daughter. Kitana escaped execution with the help of her friend Jade, and later fought and died for Earthrealm. Mileena proudly took her place by her "father's" side, and relished the opportunity to take the throne after his death.

Things became even more complicated for the two in Mortal Kombat X, when Kitana returned as an evil revenant and Mileena's reign was ended by Kotal Kahn. With her soul captured and repurposed by Quan Chi, Kitana now served the Netherrealm along with the other fallen heroes, including Sindel, Kung Lao and Liu Kang. Twenty-five years later, and following the deaths of Quan Chi and Shinnok, Kitana and Liu Kang went on to rule the Netherrealm side by side as king and queen.
Still believing herself to be the rightful ruler of Outworld, Mileena launched an assassination attempt on Kotal Kahn with the help of her fellow rogues Rain, Tanya and Kano. Though her plans were thwarted, she narrowly escaped capture with the help of Shinnok's amulet. Mileena was later apprehended in the Kuatan Jungle by Cassie Cage's Special Forces team, before being executed by D'Vorah and her flesh-eating bugs. Even by Mortal Kombat's standards, that's one gruesome way to go!
With both sisters back with a vengeance in Mortal Kombat 11: Ultimate, their story and their quarrel can "kontinue" anew. Wherever it leads, one thing is certain - there will be blood!