12 December, 2019
7 magical moments from LEGO Harry Potter
Here are seven moments of minifig magic - one from each of Harry's years at Hogwarts.
Thanks to LEGO Harry Potter™, we Muggles got the chance to recreate all our favourite scenes. Here are seven moments of minifig magic - one from each of Harry's years at Hogwarts.
Year 1: Off to a flying start
Every sorcerer's got to start somewhere, and LEGO Harry's wizarding career commences in Professor Flitwick's class. With a swish and flick, we cast "Wingardium Leviosa" - a nifty levitation charm.
Unfortunately, in the LEGO version of
Harry Potter and the Philosopher's Stone
, Ron gets it a tad wrong and accidentally sends three students skyward! If only he'd remembered: it's "Levi-O-sa", not "Levio-SAH"!
Year 2: The delights of de-gnoming
After escaping from Privet Drive in a flying Ford Anglia (easily one of the most iconic scenes from
Chamber of Secrets
) Harry arrives at The Burrow - home of the Weasley family. 
But there's no time to loaf around, with plenty of chores to be done in Mrs Weasley's LEGO garden. The most satisfying has got to be "de-gnoming" - just pick up the little blighters, spin them until dizzy, then fling 'em as far as they'll go. "Geroff me!", you'd hear, if minifigs could speak!
Year 3: Hanging out in Hogsmeade
There's no better place to chill out than a wizard village covered with snow. Thanks to Fred and George, Harry gets to sneak out and join his pals down in Hogsmeade. With friends like these, who needs permission slips?
In this location, introduced in
Prisoner of Azkaban
, you'll discover Honeydukes shop, filled with magical sweets and treats. Then there's just enough time left for a snowball fight with Draco before nipping into The Three Broomsticks pub for a cheeky Butterbeer.
Year 4: Defeating the dragon
In
Goblet of Fire
, the first task of the Triwizard Tournament is intimidating indeed! Harry has to grab a golden egg from a ferocious, fire-breathing dragon. Worse still, he's got to do it in front of the entire school! 
"The First Task" really ramps up the challenge, as you scramble the arena for puzzle pieces to outsmart your opponent - a vicious Hungarian Horntail. Luckily, LEGO Hermione is also there to give us a helping hand. Just keep calm, and you'll find it ain't no drag!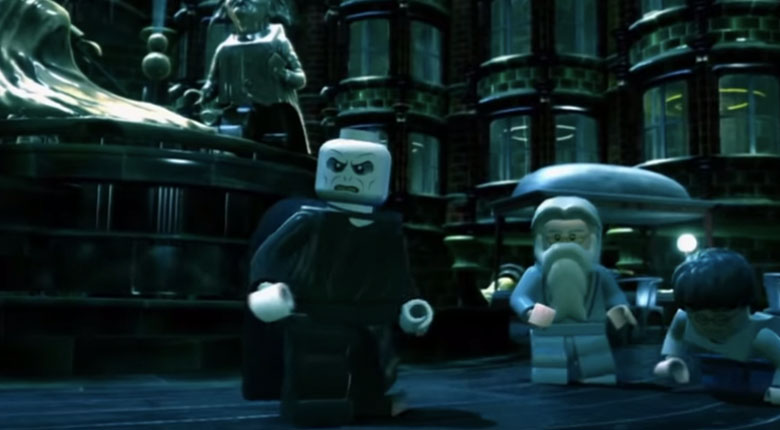 Year 5: Mayhem at the Ministry
Order of the Phoenix
ends with one epic showdown. Harry and friends are forced to put their wits and wands against the Death Eaters, not to mention the Dark Lord himself, Voldemort.
Just like the movie, LEGO Voldemort will not go down easily, but the sparks really start to fly when Dumbledore gets in on the action. Just try not to feel hot under the collar when He Who Must Not Be Named conjures a giant snake made of fire!
Year 6: Show off your Spectrespecs
Harry runs into a spot of bother on his way to Hogwarts in
Half-Blood Prince
as Draco tries to keep him out of school. Thankfully, help is at hand in the form of Luna "Loony" Lovegood, sporting some eccentric eyewear she got from her copy of The Quibbler.
Thanks to LEGO Luna, we get to see the wizarding world in a whole new way. And yes, we mean that literally! Luna's special Spectrespecs not only help to guide Harry back to Hogwarts, but also allow the player to spot hidden puzzles. Not so loony now, huh?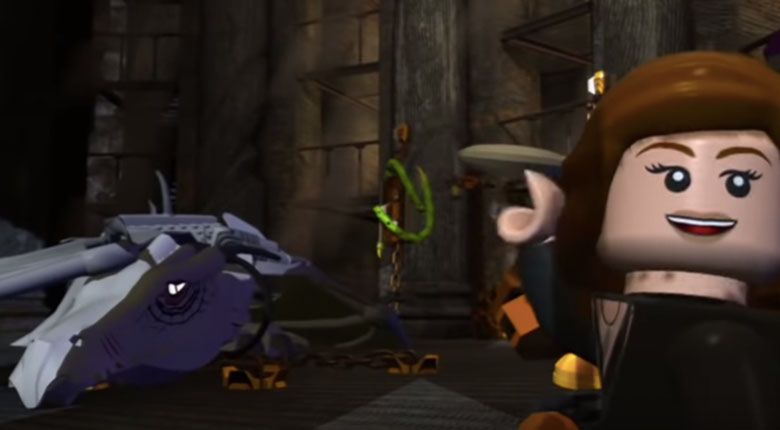 Year 7: The great Gringotts caper
In this unforgettable scene from
Deathly Hallows
, Harry's Horcrux hunt takes him to the vaults of Gringotts bank. But the goblins' treasures are guarded with a host of lethal tricks and traps. As Hagrid once said, "yeh'd be mad ter try an' rob it."
The LEGO version brings the whole heist to life, with deadly challenges recreated in full. Dupe the goblin guards with your disguises, distract the dragon and retrieve Hufflepuff's cup from an ever-expanding stack of scorching treasure. What could possibly go wrong? 
LEGO Harry Potter helped us live the magic again and again. After all, it's the closest most of us will ever get to Hogwarts!