20 November, 2019
The Ultimate Winter Watchlist
Catch up instantly on the greatest films and TV this Christmas.
There's no better time than the Christmas holidays to hunker down and catch up on your favourite films and TV. We've put together a selection of unmissable entertainment; from the latest film releases to binge worthy TV and all-time Christmas classics - for all to enjoy, on digital. 
This Chrismas, the Ultimate Winter Watchlist is all you need!
Check out our top picks from our winter watchlist and a helpful step-by-step guide to watching them all instantly on digital.
Pokémon Detective Pikachu (2019)
Whether you're a Pokémon fan or simply after a movie to bring the family together this Christmas, Pokémon Detective Pikachu has the perfect mix of action and comedy, for adults and kids to enjoy together.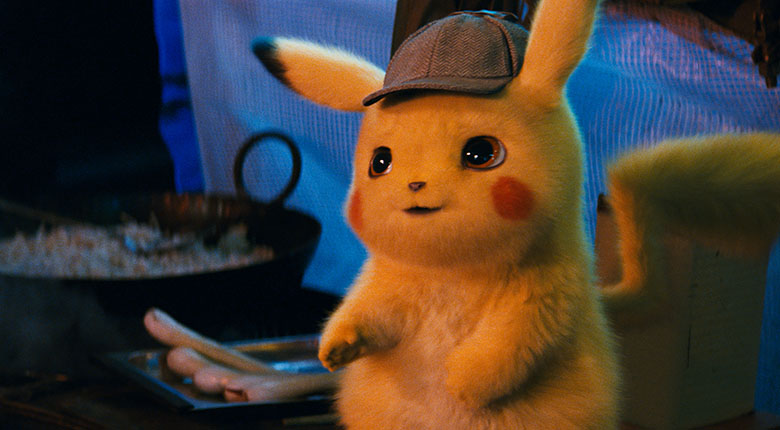 The story begins when ace private eye Harry Goodman goes mysteriously missing, prompting his 21-year-old son Tim to find out what happened. Aiding in the investigation is Harry's former Pokémon partner, Detective Pikachu: a hilariously wise-cracking, adorable super-sleuth who is a puzzlement even to himself. Finding that they are uniquely equipped to communicate with one another, Tim and Pikachu join forces on a thrilling adventure to unravel the tangled mystery.
Elf (2003)
What would Christmas be without Elf? A feel-good Christmas Classic that will leave you feeling festive and wholesome. 
One Christmas Eve a long time ago, a baby crawled into Santa's bag of toys... Raised as an elf, Buddy (Will Ferrell) grows into an adult three times larger than the biggest elf--and realizes that he will never truly fit in at the North Pole. This holiday season, Buddy goes looking for his true place in the world--in New York City. Buddy finds his workaholic father (James Caan)--who's on Santa's "naughty" list, a new mother (Mary Steenburgen) and a 10-year-old brother who doesn't believe in Santa Claus or elves. Here, now, Buddy discovers his destiny--to save Christmas for New York and the world!
The Wizard of Oz (1939)
Celebrate the 80th Anniversary and re-live the magic with this classic musical fantasy, The Wizard of Oz.
Judy Garland stars as Dorothy Gale, a young Kansas farm girl who dreams of a land "somewhere over the rainbow." Dorothy's dream comes true when she, her dog, Toto, and her family's house are transported by a tornado to a bright and magical world unlike anything she has seen before. Unfortunately, she makes a mortal enemy of a wicked witch when the house falls on the hag's sister. Now, befriended by a scarecrow without a brain, a tin man with no heart and a cowardly lion--and protected by a pair of enchanted ruby slippers--Dorothy sets off along a yellow brick road for the Emerald City to beseech the all-powerful Wizard of Oz for his help to return home.
The Big Bang Theory (2007-2018)
Wrapping up with 12 hilarious seasons, The Big Bang Theory is a perefect easy-watching comedy to enjoy over the Christmas period.
Leonard and Sheldon are brilliant physicists, the kind of "beautiful minds" that understand how the universe works. But none of that genius helps them interact with people, especially women. All this begins to change when a free-spirited beauty named Penny moves in next door. Sheldon, Leonard's roommate, is quite content spending his nights playing Klingon Boggle with their socially dysfunctional friends, fellow Caltech scientists Wolowitz and Koothrappali. However, Leonard sees in Penny a whole new universe of possibilities ... including love.
Annabelle Comes Home (2019)
If you're in the mood for something different this Christmas, here is our latest Warner Bros. horror title for you to catch up on.
Determined to keep Annabelle from wreaking more havoc, demonologists Ed and Lorraine Warren bring the possessed doll to the locked artifacts room in their home, placing her "safely" behind sacred glass and enlisting a priest's holy blessing. But an unholy night of horror awaits as Annabelle awakens the evil spirits in the room, who all set their sights on a new target—the Warrens' ten-year-old daughter, Judy, and her friends.

IT'S NOW EASIER THAN EVER TO EXPERIENCE ALL OF THIS UNMISSABLE ENTERTAINMENT ON DIGITAL.
So, why chose digital?
It's instant
As soon as you've selected and purchased your movie it's available to watch immediately – just enough time to grab your snacks and get cosy on the sofa!
It's convenient
You don't even have to leave the house. Perfect on these cold winter evenings and through the Christmas period. 
It's flexible
Once you have purchased your movie you can watch it anywhere you want, anytime, and across any device. Watch on the big screen at home or on the go on your phone, tablet or laptop, on your way home for Christmas. 
Here are our 5 easy steps to download digitally:
Step 1
Go to your retailer of choice via their website or app, from any of your devices.

Step 2
Now pick a movie or TV show to fit your mood.
Step 3
Once you have made your selection, you can choose to either rent or own the movie or TV show forever to watch again and again.
If this is the first time you've purchased anything with your selected retailer, you will be prompted to register and create an account.
 
You will then be able to log back into your retailer account to watch your movies and TV shows again and again, from any of your devices.
Step 4
Once you have purchased your movie or TV show, you can either stream it through an internet connection, if you wish. Or download it onto your device and watch it offline, perfect for travelling over the Christmas period.  
Step 5
Now you are ready to go!
Sit back, relax and watch instantly across any of your devices
 
It really couldn't be easier, just give it a go!