4 November, 2019
Stanley Kubrick - Limited Edition Film Collection
"If it can be written, or thought, it can be filmed." - Stanley Kubrick. Own 7 ground-breaking films and a revealing documentary in one stunning limited-edition collection.
Undoubtedly one of the greatest filmmakers ever, Stanley Kubrick directed, wrote and produced groundbreaking films in every major genre, from science fiction with 2001: A Space Odyssey to eroticism with Lolita. Each of his works shares his passionate attention to detail, love of the visual medium and need to constantly expand the limits of his art. 
Immerse yourself in these iconic Kubrick masterpieces, with our stunning limited-edition collection.
LOLITA (1962) - Blu-Ray
Cast: James Mason, Shelley Winters, Peter Sellers, Sue Lyon, Marianne, Gary Cockrell, Diana Decker, Jerry Stovin, Susnne Gibbs
When worldly, middle-aged professor Humbert Humbert (James Mason) rents a room from widowed Charlotte Haze (Shelly Winters), he quickly becomes obsessed with her young daughter, Lolita (Sue Lyon). Humbert goes so far as to marry Charlotte to be close to her daughter, but when Charlotte discovers her husband's secret lust, the knowledge leads to her death. Now free to pursue his obsession with his willing, under-aged stepdaughter, Humbert seduces Lolita, unable to control a lust that will destroy him.
2001: A SPACE ODYSSEY (1968) - 4K Ultra HD & Blu-Ray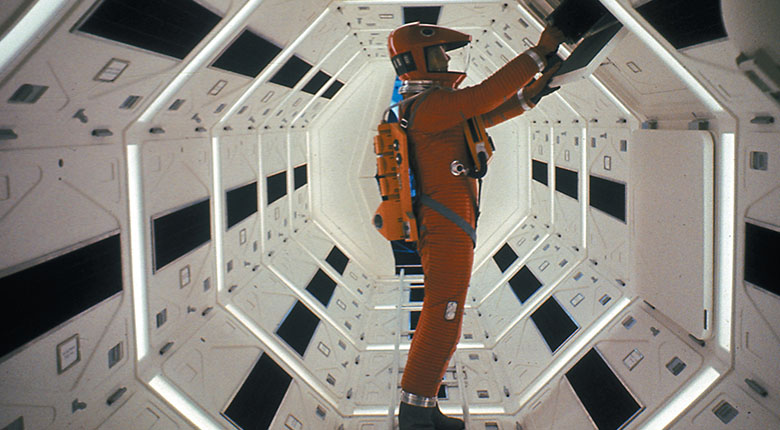 Cast: Keir Dullea, Gary Lockwood, William Sylvester, Daniel Ritcher, Leonard Rossiter, Margaret Tyzack, Robert Beatty, Sean Sullivan
Stone Age Earth: In the presence of a mysterious black obelisk, pre-humans discover the use of tools--and weapons--violently taking first steps toward intelligence. 1999: On Earth's moon astronauts uncover another mysterious black obelisk. 2001: Between Earth and Jupiter, the spacecraft's intelligent computer makes a mistake that kills most of the human crew--then continues to kill to hide its error. Beyond Time: The sole survivor of the journey to Jupiter ascends to the next level of humanity.
A CLOCKWORK ORANGE (1972) - Blu-Ray 
Cast: Malcom McDowell, Patrick Magee, Adrienne Corri, Miriam Karlin, Michael Bates, Warren Clarke, John Clive, Carl Duering
In a futuristic welfare state, Alex (Malcolm McDowell), a vicious young hoodlum, sleeps all day and spends his nights roaming the city with his droogs (friends), assaulting innocent people in the streets and in their homes. Finally captured by the police, Alex undergoes rehabilitation in the form of aversion therapy as brutal and horrifying as any of his offenses.
BARRY LYNDON (1974) - Blu-Ray
Cast: Ryan O'Neal, Marisa Berenson, Patrick Magee, Hardy Krüger, Steven Berkoff, Gay Hamilton, Marie Keane, Diana, Murray Melvin, Frank Middlemass, André Morell, Arthur O'Sullivan, Godfrey Quigley
Forced to leave Ireland after killing an English officer in a duel, handsome young Redmond Barry (O'Neal) seeks his fortune as a soldier in Prussia, as a spy then as a gambler living among the elite of Europe. He changes his name and marries an aristocrat (Berenson) for her wealth, but the acceptance he seeks finally eludes him.
 
THE SHINING (1980) - 4K Ultra HD & Blu-Ray
Cast: Jack Nicholson, Shelley Duvall, Danny Lloyd, Scatman rothers, Barry Nelson, Philip Stone, Joe Turkel, Anne Jackson, Tony, Burton
When writer Jack Torrance (Nicholson)--who has a history of alcoholism and child abuse--takes a job as winter caretaker for a hotel high in the Rocky Mountains, he, his wife (Duvall) and their psychic young son will be isolated until spring. But once the first blizzard closes the road out, the accumulated power of evil deeds committed at the hotel begins to drive Jack mad. Now there may be no escape for his wife and son in this haunting madness, memory and family violence.
FULL METAL JACKET (1987) - Blu-Ray
Cast: Matthew Modine, Adam Baldwin, Vincent D'Onofrio, Lee Ermey, Dorian Harewood, Kevyn Major Howard, Arliss Howard, Ed O'Ross, John Terry, Kieron Jecchinis, Kirk Taylor, Tim Colceri, Jon Stafford
Through the eyes of an 18-year-old recruit--from his first days in the seeming hell of Marine Corps boot camp as his superiors try to strip of him his individuality and re-create him as a Marine, to the hell of the 1968 Tet offensive, Kubrick reveals the damage done to the collective human soul by the inhumanity of war.
EYES WIDE SHUT (1999) - Blu-Ray
Cast: Tom Cruise, Nicole Kidman, Sydney Pollack, Marie Richardson, Rade Sherbedgia, Thomas Gibson, Leelee Sobieski, Vinessa Shaw, Todd Field, Sky Dumont
At a Christmas party hosted by wealthy, unconventional Victor Ziegler (Sydney Pollack), provocative advances and innocent flirtations arouse suspicion as high-society physician Dr. William Harford (Cruise) and his sexy wife, Alice (Kidman) watch each other from a distance. Alone later, this seemingly perfect couple confront their intimate sexual fantasies--which don't include each other. Caught between reality and illusion, jealousy and obsession, William struggles with his inner urges. Will he act on his erotic fantasies or keep them hidden deep inside? Sometimes a man can see more clearly with his Eyes Wide Shut.
STANLEY KUBRICK: A LIFE IN PICTURES (2001) - DVD
Cast & Credits: Woody Allen, Arthur C. Clarke, Tom Cruise, Kier Dullea, Shelley Duvall, Nicole Kidman, Christine Kubrick, Paul Mazursky, Malcolm McDowell, Matthew Modine, Jack Nicholson, Alan Parker, Sydney Pollack, Richard Schickel, Martin Scorsese, Terry Semel, Steven Spielberg, Douglas Trumbull, Peter Ustinov
Tom Cruise narrates this penetrating documentary, which explores the many and varied aspects of Stanley Kubrick: film director, producer, writer, photographer, husband and father.
To get your hands on your own copy of this stunning collection, available on 11th November, click here!