21 August, 2019
The Best of Family Favourites
Check out our top picks from the Family Favourites Collection for the summer!
Spanning several decades and showcasing some brilliant characters, we've selected some of our favourite family films for you to enjoy. With a mix of nostalgic feel-good classics and some of our latest releases, there really is something for everyone!

Smallfoot (2018)

Director: Karey Kirkpatrick
Cast: Channing Tatum, Ely Henry, Gina Rodriguez, LeBron James, Ryder James, Zendaya
"Smallfoot" turns the Bigfoot legend upside down when a bright young Yeti Finds something he thought didn't exist - a human. News of this "smallfoot" throws the simple Yeti community into an uproar over what else might be out there in the big world beyondtheir snowy village, in an all new story about friendship, courage, and the joy of discovery.
Ready Player One (2018)
Director: Steven Spielberg
Cast: Ben Mendelsohn, Mark Rylance, Olivia Cooke, Simon Pegg, T J Miller, Tye Sheridan
In the year 2045, the real world is a harsh place. The only time Wade Watts (Tye Sheridan) truly feels alive is when he escapes to the OASIS, an immersive virtual universe where most of humanity spend their days. In the OASIS, you can go anywhere, do anything, be anyone--the only limits are your own imagination.
The Neverending Story (1984)

Director: Wolfgang Petersen
Cast: Barret Oliver, Gerald McRaney, Drum Garrett, Darryl Cooksey, Nicholas Gilbert, Thomas Hill
A lonely young boy with a love of books becomes drawn into a timeless world of fabulous creatures--a world that only he can save from certain destruction--as he discovers that he is the hero of The Neverending Story.
Space Jam (1996)
Director: Joseph Pytka
Cast: Michael Jordan, Wayne Knight, Theresa Randle, Manner Washington, Eric Gordan, Penny Bae Bridges
Captured by Bugs Bunny to foil a ghastly gang of space creatures, Michael Jordan must play the basketball game of his life to save the beloved cartoon hereos from a hideous kidnapping scheme. Will Jordan beat the odds and get his Looney pals of of a real jam? Fasten your seat belts and enter a whole new dimension in entertainment in the wildest, wackiest comic fantasy ever.
The Goonies (1985)
Director: Richard Donner
Cast: Sean Astin, Josh Brolin, Jeff Cohen, Corey Feldman, Kerri Green, Martha Plimpton
With brothers Mikey and Brand's house slated for demolition by greedy land developers, the boys decide their only hope lies in finding a long-lost treasure. They uncover a treasure map and with their friends descend to a subterranean sea and an abandoned galleon in this fun-filled, fast paced adventure.
The Witches (1990)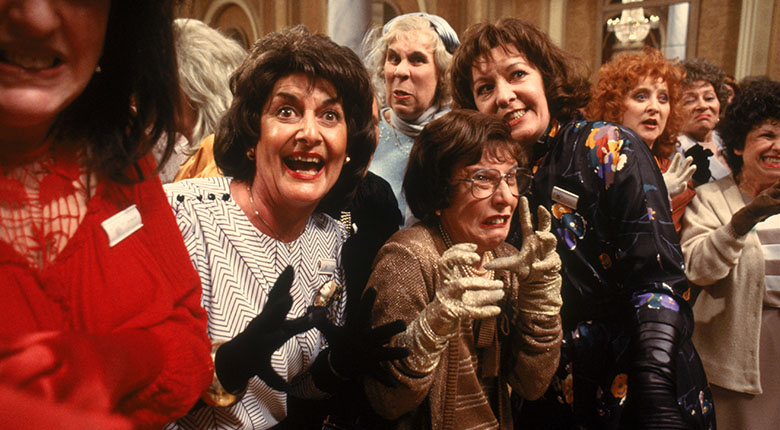 Director: Nicolas Roeg
Cast: Anjelica Huston, Mai Zetterling, Jasen Fisher, Rowan Atkinson, Bill Paterson, Brenda Blethyn
A little boy and his kindly grandmother prevent a coven of witches who want to rid Britain of children by turning them into mice. Vacationing at a seaside hotel with his grandmother, a young boy discovers that a convention of witches is also staying there and finds out about the evil plans of their Grand High Witch (Huston). 
To check out the full Family Favourites collection, Click Here
To keep updated on the latest news, competitions and trailers from Warner Bros., head to News Articles